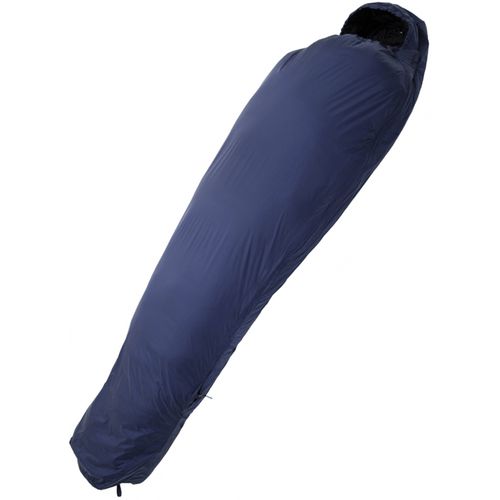 Carinthia Pytel spací modulární souprava TSS System navy M - levý
Tento kvalitní kousek: Carinthia Pytel spací modulární souprava TSS System navy M - levý vypadá velmi dobře. Hodí se do každé situace a stojí jen 13 990 Kč. Podívejte se na další informace...
G-LOFT Technical Sleeping Bag System je ambasadorem nové řady produktů rakouského výrobce CARINTHIA. Vítěz testu spacích pytlů magazínu OUTDOOR 2019. Systém se sestává ze dvou modulárně použitelných spacích pytlů - vnitřní a vnější. Oba spacáky mohou být použity jak samostatně, tak jako celý komplet. Přitom je zaručen tepelný komfort, prodyšnost a odvod vlhkosti. Díky této kombinaci je produkt použitelný třísezónně s komfortní teplotou -15°C. TSS vnitřní spací pytel střih kopírující postavu léga kryjící zip kombinovatelnost protiklouzavá úprava dvoucestný zip zabraňující úniku tepla termoreflektivní úprava 3-vrstvá konstrukce kompresní vak je součástí balení smyčkový systém pro kombinaci se spacáky Grizzly (kód produktu: 100281) a Polycotton liner (kód produktu: 10364) TSS vnější spací pytel střih kopírující postavu léga kryjící zip kombinovatelnost protiklouzavá úprava dvoucestný zip zabraňující úniku tepla termoreflektivní úprava 1-vrstvá konstrukce kompresní vak je součástí balení Materiálová a teplotní specifikace Zateplení: G-LOFT®, 100% PolyesterVnější materiál: 100% PolyamidPodšívka: 100% PolyamidVelikosti: M, LVelikost sbaleného produktu (cm):TSS vnější 14x18 cm vel. M, 14x20 cm vel. LTSS vnitřní 19x25 cm vel. M, 19x27 cm vel. LRozměry (cm):TSS: 215/80/52 (M), 230/85/55 (L)TSS vnitřní: 210/75/52 (M), 225/78/55 (L)TSS vnější: 215/80/52 (M), 230/85/55 (L)Hmotnost (g):TSS: 1940 (M), 2140 (L)TSS vnitřní: 1290 (M), 1400 (L)TSS vnější: 650 (M), 740 (L)TSS: Comfort ženy: -8,0°C | Comfort limit muži: -15,0°C | Extreme: -36,0°CTSS vnitřní: Comfort ženy: -2,0°C | Comfort Limit muži: -8,0°C | Extreme: -27,0°CTSS vnější: Comfort ženy: 9,0°C | Comfort Limit muži: 5,0°C | Extreme: -8,0°CTeplotní specifikace dle ISO 23537-1/EN 13537 Recenze od zákazníka, USA | Feedback from a customer from the USA I am an American male in the Pacific Northwest. 5' 9" 165 lbs. 42" Chest, 31" waist. Open The Box The "CARINTHIA TSS FULL SYSTEM, LARGE, RIGHT ZIP" arrives in a large mesh storage/travel bag containing the TSS and #2 high quality Carinthia compression bags (1 for each of the TSS INNER & TSS OUTER). The TSS is instantly impressive. Silky to the touch and extremely light weight as rated. Every person I've handed it to has the same reaction and statement. "Wow!" Laying the bag out to open and get in. Externally it appears just as the pictures on the Carinthia website, not quite as "lofty" in the foot area in appearance but just the same size. The foot box does not stand freely or firm as a "box" as it appears, just pliable as the rest of the bag is. The Generous wind/element flap coverings have extensive stitching for the zippers and are unparalleled by any other outdoor brand or military equipment supply manufacturer. The massive YKK zipper glides effortlessly, as fast as your hand moves. My TSS did NOT have 1 feature as indicated in the pics online. There was NO compartment for a small pillow under the head/hood area. This is not a problem for me in any way. The Carinthia pillow DOES fit inside the head area of the bag in use, see below. Inside the bag There are 2 zippers to close off the TSS FULL SYSTEM. The TSS does not open fully and is a "Mummy" shaped bag. The shoulder area is very generous and there is ample room at the foot box for storing clothes. Taking time to familiarize all the hood closings BEFORE you enter the bag is a must. Neck, Head, and "Bonnet" cinches are available for extreme elements and are beyond novice level. You will not be able to fully utilize these or or operate them quickly if you do not familiarize with them first. You should also practice fast extraction using the TSS in case of emergency. It does take some time to develop your skills especially if you fully close off over the shoulder, hoods etc. In my area of the world we have bears, mountain lions, humans, and with the use of so many lithium ion devices in close proximity having your extraction skills and plan is essential for survival. If you practice you will LOVE the flexibility and all the technical design work done by the experts at Carinthia! Van/Camper. 150ft elevation, 50f, 80% humidity, pouring rain Wearing a thin base layer 1, thin neck gaiter, fleece cap (shaved head) and getting into the TSS I had no plans of fully closing off the bag or closing the hood off. Relaxing and reading on my iPad after about 3 minutes it was apparent that I would have to use just 1 bag. I chose to start with just the "TSS OUTER LARGE." It is deceivingly light and thin. It took less than 5 minutes to remove the inner bag and get in. As I prepared for sleep and felt the elements a bit I closed up and pulled the hood over but not fully closing off the face area. Just enough to keep a draft from coming down my neck. At 50 degrees even that was too much and during the night I opened the bag at times! Van/Camper. 400ft elevation, 35f, 85% humidity Thin base layer 1, thin Balaclava, TSS INNER. More than enough bag to get through the night in luxury! I do use a pillow under the bag in the van, The inner bag is much smaller and is intended for backpacking, expedition, and possible military application (?) so keep in mind to read the dimensions. I do enjoy some of my American oversize car camping/tent cot setup behemoths for their space accommodation but they weigh in at 9lbs and 14lbs respectively! There is no comparison in quality or versatility to the Carinthia product. Tent. 150ft elevation 39f, 85% humidity, pouring rain Thin base Layer 1, thin Balaclava FULL TSS. (It should be noted that I also use a cot in the tent. There is a self inflating pad - 2" and another closed cell foam layer for thermal barrier on that. Still packable.) This was the most challenging test I've been able to do yet. No match for the Carintha TSS! NONE! I did not have to go to full close off, tightening every possible option. Just around the neck and pulling the bonnet down with some closing around the face. I did use a pillow inside the bag that is intended for this use and it worked, It does make for a tight fit. it is just the same size as the Carinthia Pillow. I can't wait to head out for extreme elements. Closing 10/10 - Perfection The Carinthia TSS has surpassed my exceedingly demanding expectations so far. I have lived, worked, and hiked around the world on 3 continents and completely covered the western U.S. and B.C. My father was a military officer, veteran of 3 wars and I grew up on base inside and outside the U.S. Cold weather camping with a warrior in the 1960's as a child using the crude equipment we had was no picnic as it is today! Now I am fortunate and I use quality gear and do my best to use products from the U.S. and EU only. I believe the Carinthia ratings to be conservative. For my visits to the southwest the TSS Outer and the Grizzly liner will suffice in most if not all applications this late winter. Having all these options from one system plus the ability to "go anywhere anytime" for outdoor and wilderness photography make the TSS an outstanding value. I cannot say enough about this product, Carinthia products and their support staff! Thank you Carinthia and CARINTHIASHOP.COM!
Tento produkt vyrábí výrobce Carinthia, což značí kvalitu za dobrou cenu.
Carinthia Pytel spací modulární souprava TSS System navy M - levý pořídíte za nejlepší cenu v tomto e-shopu.
Produkt: Carinthia Pytel spací modulární souprava TSS System navy M - levý
Výrobce: Carinthia
Cena: 13 990 Kč





Parametry
BARVA: navy
VELIKOST: M - levý
EAN:
Kategorie
Toto zboží - Carinthia Pytel spací modulární souprava TSS System navy M - levý - je zatříděno v těchto kategoriích: